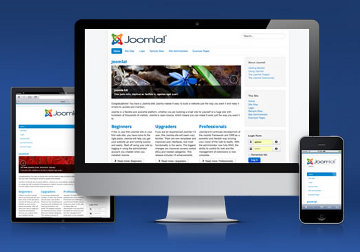 Yesterday, Joomla! 3.0 has been launched. This is a special new release, it's Mobile Ready, and it has a quantum leap of improvements. For example JQuery is natively supported. 
The current Joomla! 2.5 is a Long Term Support version (3 years / spring 2014). Joomla! 3.0 is not a LTS. It's an intermediate version to be ready for the next LTS version (3.5). In 6 months, Joomla 3.1 will be released, to upgrade Joomla 3.0.
Joomla! 3.0 is mainly oriented for Early Adopters or developers (to prepare the extension for the next LTS).
New extensions ready for Joomla! 3
This new version is giving us the perfect opportunity to re-think our products. We are adding the new exciting features and big improvements based on your feedback.
Please, follow us to receive our news. Our plan is to update as soon as possible.
FAQ - Should I update from 2.5?
In most cases, probably not .... more.
FAQ - I have a 2.5 site and I see a that the Joomla update manager lets me upgrade to 3.0; should I do it since it's letting me?
Not unless you're 1000% sure.  By default, Joomla will not let you update to 3.0 unless you activate the option .... more.
FAQ - Is your server ready for Joomla! 3?
It requires PHP 5.3.1 or newer. You can check it with Upgrade Check Application.
Mobile Ready
Fully Responsive Site Template
Fully Responsive Admin UI
Fully Responsive Core Output
User Friendly
New User Friendly Interface
Streamlined 30 Second Install
Refined Admin User Experience
Developer Tools
Build a Component with Zero CSS
Style a Site with 1 CSS File
Icomoon Font Icon Library
jQuery & Mootools Ready
And A Whole Lot More
Incorporation of Bootstrap into a jui media package.
A new responsive administrator template Isis and interface.
A new frontend template Protostar built using Bootstrap and updated accessible template called Beez3
PostgreSQL Driver. You will be able to run Joomla 3.0 sites using the PostgreSQL database.
PHP Memcached Driver
Use of JFeed for feed management rather than SimplePie
Installation of language packages directly from the extension manager
Guest user group present by default
Saving blank articles allowed
New administrator statistics module
Update TinyMCE to version 3.5.6
Continued clean up of older unused code, files and database fields and tables and improved standardization of tables.
Improvements to Smart Search
Extensive work on code style standardisation and consistency
Unit testing in the CMS
Updated system tests in the CMS