Today, we have severals news to share about the available versions and powerful new features:
AutoTweet and Joocial 8.10: In our regular update, we are introducing RSS Feeds Direct Posts. A brand new feature, to publish posts directly from RSS Feeds. This feature requires Joocial 9 Alpha 1 CLI. To implement it, please contact us.
XTDir 6.4.2 for SobiPro 1.3.6: SobiPro is on the road to renew its internal architecture, and we are closely following it. Please, remember to update as soon as possible.
Joomla 3.7 is just around the corner, and these latest releases have been tested in the most recent Beta release.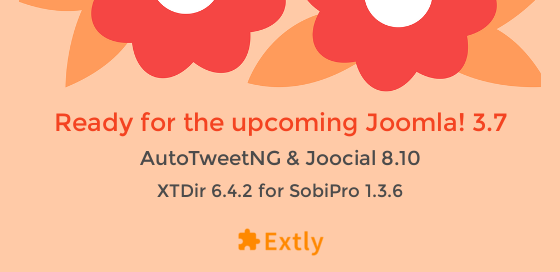 Joocial 9 - Alpha 1 News
The future content hub
We are developing the stable branch of AutoTweet and Joocial 8 at the same time than we create Joocial 9. So, we are reaching full compatibility and implementing new features on the same releases.
If you prefer to wait for the final Joocial 9 stable version, you are going to notice that new features are tagged in the user interface as "Only Joocial 9".
If you plan to test the new Joocial 9 - Alpha 1 CLI, please contact us - only for experts -
Joocial 9 Alpha 1 features
Run Joocial 9 in CLI mode (Headless).
Requirements and compatibility: PHP 7 or PHP 5.6
CMS: Joomla! 3 and Standalone mode
Push and Web Notifications
Social Channels: Facebook, Twitter, LinkedIn, Blogger, Scoop.it, Telegram, Medium, Tumblr, Xing, JomSocial, EasySocial and VK Profile.
Unit Tests: more than 200 automated tests and counting...
Be ready; you can start right now with the current generation of extensions, click here for more information.