# XT Cookie Consent Banner
This chapter covers the use of the XT Cookie Consent Banner (opens new window) component for Joomla!™ -powered websites.
# Introduction
XT Cookie Consent Banner is a light and manageable module, which will allow your users to decide which cookies will be installed when they visit your website.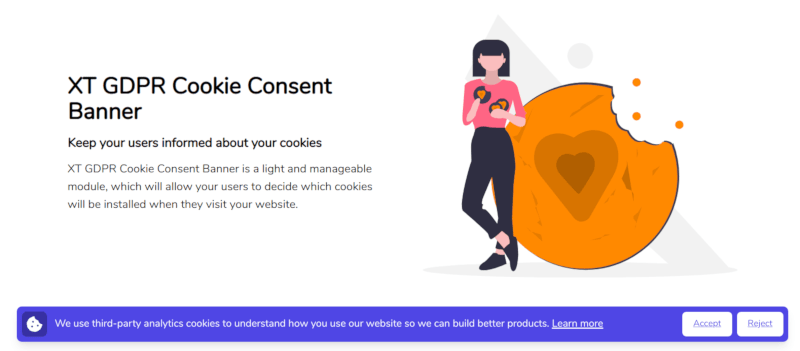 The module is an implementation of the GDPR Cookie Consent banner for Joomla!. A vanilla JS implementation of a compliant GDPR banner. It is implemented with a simple Tailwind CSS design, simple styling cases; and everything overridable.
# Benefits
Regulations compliant.
Flexible and powerful.

Geolocation
Customizable
Responsive design
# Examples & Demo
Check our live demo at https://demo.extly.com (opens new window)
The module is also used on our site: https://extly.com (opens new window). To test it, if you have already accepted the cookies, you can visit the site as a Browser Guest or reset the cookies of the domain.
# Configuration
This is the main configuration screen: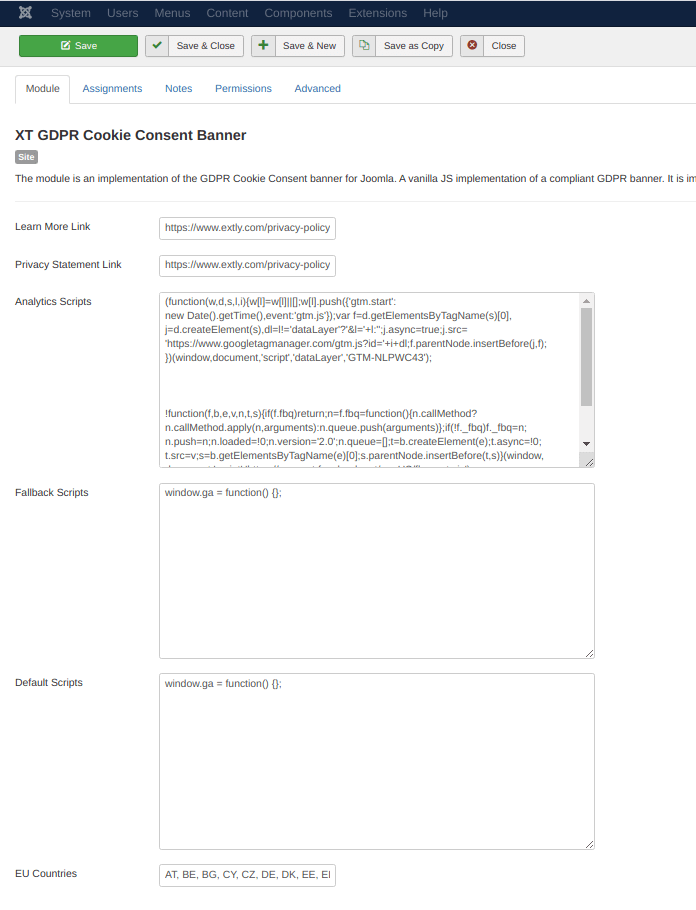 Learn More Link: Define the Learn More Link to describe the usage of the cookies.
Privacy Statement Link: Define the Privacy Statement Link to describe the privacy statement of the site.
EU Countries: List of ISO countries codes considered as EU to render the consent banner. The GeoLite2-Countrymmdb must be copied into media/lib_xt-gdpr-cookie-consent-banner/GeoLite2-Country.
Analytics Scripts: Define the scripts to be loaded when the user accept the Analytics Scripts. OnlyJavaScript. NO HTML."
Fallback Scripts: Define the scripts to be loaded when the user doesn't accept the Analytics Scripts. OnlyJavaScript. NO HTML."
Default Scripts: Define the scripts to be always loaded. Only JavaScript. NO HTML.
# About the GeoLite2 Country Database
The GeoLite2 Country Database is a free IP geolocation database. It is not provided with the module. The GeoLite2-Countrymmdb must be copied into media/lib_xt-gdpr-cookie-consent-banner/GeoLite2-Country.
You can get the database from the author here: https://dev.maxmind.com/geoip/geoip2/geolite2/ (opens new window)